Air Sofia Golf Club (Ihtiman)
SofiaHotels.net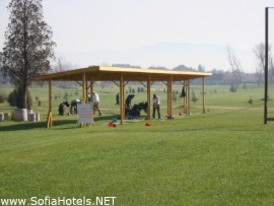 The first Bulgarian golf course is situated at the outskirts of Ihtiman, a small town approx. 45 km south-east of Sofia city, on the highway Sofia-Plovdiv. It is also close to the Rila mountain resort of Borovets.
There are 18 fairways with total length of 4431 m, Par 71.
English experts and Spanish architects have designed and set up the course, the layout of vegetation and the drainage system.
The fairway layout and the spectacular obstacles, water hazards, bridges and bunkers, sand traps would be a challenge even for the advanced players.
A driving range and a training green are available for beginners.
3 varieties of special grass imported from England have been used to set up the fairways. Special formulas of grass blend has been used to cover the terrain.
The golf club features a well equipped golf store, hire out equipment and caddies.
The golf club is situated in an almost plain valley at an altitude of 600-700 meters and surrounded by steep slopes. The mountain of Stara Planina blocks the continental air passage,
so the climate is mild continental with coldest month January (0-4ºCelsius) and hottest month July (23-25° Celsius).
The soils of the terrain is humus, alluvial and maroon. The indigenous vegetation includes grass, oak (Quercus frainetto and Quercus peduculiflora), ash (Fraxinus oxicarpa), etc.
The alluvial soils of the golf course allow natural drainage of the area.
The grass blend formulas used for the certain areas of the course are based on climate, precipitation and soil analyses. The soil of the greens, tees, fairways, putting - greens and the
training course areas has been additionally treated. The rough area has not been treated, so the natural vegetation has been preserved.
The available drainage system is based on the so called French drainage, providing for the optimum terrain moisture in the green areas and allowing practice even in rainy weather. The
drainage system is autonomous for the separate area and it ends with an absorbing well.
The newly planted vegetation includes about 35 coniferous, deciduous and shrub species, which have been arranged into long stretches whose pivotal areas consist of indigenous species. Appropriate exotic species have also been added. The vegetation is the core of the facility linking its separate units into a superb harmonious entity. Golf players can also enjoy football field, basketball and volleyball pitches, 2 tennis courts, a swimming pool, a horse riding manege, plus a number restaurants and cafés.
Book accommodation in Air Sofia Golf Club here!