Visit in Bulgaria
Monasteries
Rila Monastery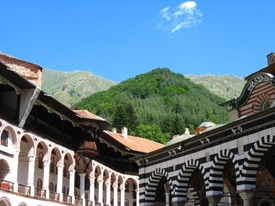 Rila Monastery is the most outstanding monument of Bulgarian culture and architecture of the Revival period. It is situated at the heart of Rila Mountain at the altitude of 1147 m above sea level on the right bank of the Rila River.
The monastery is a wide complex build in a remarkable architectural style.
Right in the center of the complex raises Hrelyo Tower - a powerful stone fortification, the sole preserved building of Medieval Times (1335).
A museum has been arranged in the newly built eastern wing of the monastery building which houses the gate of the Hrelyo Church, ancient weapons of the monastery guards and certificates of merit of Bulgarian tsars.
The Rila Monastery is listed in the UNESCO World heriatge List, as a monument of an extraordinary value and significance for world culture.
Bachkovo Monastery
Bachkovo monastery is the second in size and importance monastery in Bulgaria. It is located on the right bank of the Chepelare River, 29 kilometers away from Plovdiv.
A prominent Byzantine statesman, of Georgian origin, founded it in 1083. It does not look the same as it was when established because it was destroyed by fire more than once and then restored. The only part from its original structure that has survived is the charnel- house with an interesting architectural design.
Preobrazhenie monastery
Preobrazhenski Monastery is 7 kilometers north of Veliko Tarnovo. It is situated under hardly accessible rocks on the left bank of Yantra River. During the 14th century it flourished. During the Ottoman rule it suffered numerous attacks and was rebuild in 19th century. It is one of the most remarkable monuments of the Bulgarian revival Period.
Troyan Monastery
The Holy Virgin Troyan Monastery is situated in the northern folds of the Troyan Balkan (Central Stara Planina), on the left bank of the Cherni Ossum River. It is 10 km south- east of Troyan, between the villages of Oreshak and Cherni Ossum.
The monastery is famous for its miraculous icon "Holy Virgin Troeruchitsa".