The Hilton Sofia Renovated the Executive Floors
information by the Hilton Hotel Sofia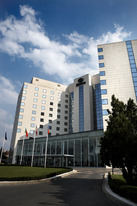 The Hilton Sofia
announced the completion of a three-month refurbishment of its two executive floors. The 58 new-look rooms, situated on the eighth and ninth floors of the hotel, have been given a modern twist, finished in a contemporary design with warm natural colors.
Jacques Brune, general manager of Hilton Sofia, said: "Our executive floor refurbishment is part of an ongoing programme of upgrades at the hotel in order to offer our guests the best possible experience. Whilst retaining the renowned Hilton hospitality and our valued in-room amenities, including luxury Crabtree & Evelyn products, we have enhanced those aspects that are most important to both our business and leisure travellers."
The new guestrooms feature contemporary furniture, fresh wall coverings, fresh carpets, modern lighting and ultra-comfortable Hilton Serenity beds. Ergonomic desk chairs and calming artwork of historic Sofia landmarks also feature in each room, creating the perfect environment for both work and relaxation.
All executive guests benefit from access to the hotel's executive lounge with complimentary breakfast, refreshments, newspaper each morning, roundtrip airport transfers, private check-in, internet access in the business centre, mineral water and one clothes pressing per stay.