"Muzeiko" museum for children to open in Sofia
Bg Daily News, December 12, 2013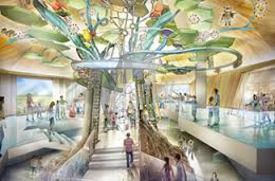 The construction of Muzeiko, the first children's museum in Southeastern Europe will start next week in Sofia.
It will be in the Studentski grad district, near the G.M. Dimitrov metro station. The cost of the project is 22 million leva, donated by the America for Bulgaria Foundation. The museum, designed by the US company Lee H. Skolnick Architecture + Design Partnership, will open in mid-2015, has an area of 3250 square metres and the projected number of visitors is about 100 000 per year.
According to the director of the museum, Bistra Kirova, who has already designed children's areas in several museums in Bulgaria, Muzeiko will be a revolution. It is intended as an interactive learning space, where children can touch and play with the exhibits, in order to understand how everything works.
The centerpiece of the museum will be a tree made of glass, plastic and steel that rises through all three levels of the building's interior.
"The whole museum is organised around the idea of moving through time and space," said for The New York times Lee Skolnick, the founder of the architectural firm, which also created the DiMenna Children's History Museum in New York, among several other cultural venues for children.
The lowest level, where the tree has roots, will house "the past" with exhibitions in archaeology, geology and paleontology. Children will be able to put on a safety helmet and dig out samples of rocks and minerals like stalactites and stalagmites that they can then analyze in a lab with experts.
On the ground floor visitors will find "the present," represented by displays about the natural environment, architecture and cities. The top floor will be dedicated to "the future" with interactive exhibitions about space travel and cutting-edge technologies.
The building itself will be made predominantly of glass and will resemble the mountains surrounding Sofia.