Shopping tourism in Sofia
bnr.bg, Lina Ivanova, Delian Zahariev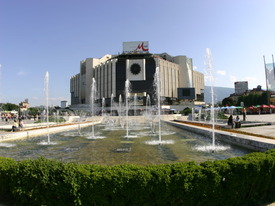 A combination between sightseeing cultural and historical sites and shopping is nothing new. Today, there are many fashionable boutiques of global brands in Sofia. Often, prices here are much better than in other European countries.

There are also a lot of souvenir shops that can be found upon arrival in Sofia – at railway and bus stations and at the airport. Images of the capital are depicted on all kinds of objects and clothes.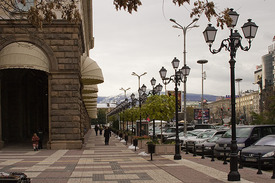 Around one of Sofia's landmark – Alexander Nevski Cathedral – there are a lot of stands and people selling all kinds of antiquary objects such as military helmets, medals, old coins, jugs, paintings and type-writers. Old women sitting around the small market, knit different types of lace or scarves with folklore motifs. As a whole, that place is a small heaven for collectors! In souvenir shops in the center of Sofia, one can buy the typical small flasks of rose oil, carved wooden boxes for jewelry as well as dolls dressed in tradition Bulgarian costumes. At the same time, in antiquary shops in the heart of the capital, collectors may find British china, Vienna furniture, old maps and silver tableware. Foreigners are often the most frequent visitors of such shops.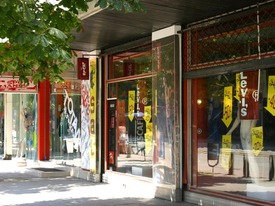 Sofia had another face – the shopping street of Vithosha boulevard where expensive boutiques abounded. People went there to buy fashionable items such as clothes, perfumes, make-up, jewelry and other exquisite goods Vitoshka, as people endearingly call it, used to be the symbol of luxury.
Nowadays, Sofia has acquired a few shopping malls. In them, people can find anything and everything they need – from foods to clothes, shoes, and cosmetics. Contemporary mall culture came up with a new way of social interaction. Business partners prefer to arrange their business meetings in the mall. Teenagers go to the cinema and then have snacks in the fast food restaurants.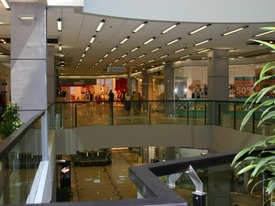 Around Christmas holidays, people flock to the malls to buy presents and the atmosphere there gets so lively. Tired from shopping, people can taste world cuisines – Chinese, Japanese, Mexican, European and Bulgarian – in the mall's restaurants. It seems that every historical era has its places and ways of social interation.