Sofia Metro Turns 11, Bound to Expand in 2009
Sofia News Agency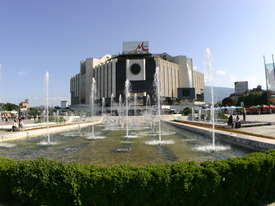 The first part of the first (and still only) line of the metro in the Bulgarian capital Sofia was opened on January 28, 1998, the Pari Daily reminds in a retrospective article.
At its opening the Sofia metro's only line was long 6,4 km, and had five stations. By 2001, two kilometers were added linking Sofia's largest residential quarter Lyulin to the downtown Serdika Station.
In April 2003, another extension by 1,95 km of the subway line was completed extending it past the Lyulin Quarter into the Obelya Quarter in the suburbs, bringing its total lenth to over ten kilometers.
The same metro line is supposed to be extended from the downtown of Sofia to the Mladost Quarter in the southeast by the fall of 2009. According to the last report of the Mayor Borisov, by May 2009 another part of the metro line between Mladost and the Dragan Tsankov Blvd will be opened, and it will then be connected to the Serdika Station.
Thirteen new metro stations are to be opened in Sofia by 2012, the report states. The Lyulin-Mladost railway is going to be completed, and second line connected the Nadezhda and the Lozenetz Quarters is to be started.