Sofia enjoys strong tourism boost
BNR.bg, by Veneta Nikolova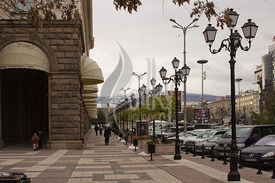 Walking in Sofia city center on a gray weekday, one might think that the Bulgarian capital is not particularly distinct from other European capitals. Here, among the busy crowds of self-absorbed, depressed and often grim urban residents, tourists stand out as colorful spots. Unlike other bystanders, these people never rush, their faces are bright and lively. Their eyes are attracted by the Roman baths, medieval churches, beautiful parks and spas and their lively conversations are held in Greek , English, German, Spanish, Italian...Over the last year, foreign guests of Sofia have increased by about 11 per cent, according to statistics. And no wonder!
"When we arrived we did not know what to expect. We saw a dynamic city with young, energetic people, it was classic yet modern, with lots of green space" - this is what Canadian travelers Caro and Matt wrote in their blog about Sofia. In it they compare Bulgaria's capital city to "a cool girl at university who never wears makeup, yet looks amazing." Indeed, Sofia may not have the veneer of some famous European capitals, but certainly there is something to fascinate the unbiased alien. The first thing that makes an impression as soon as you land at the airport is the proximity of the Vitosha Mountain and the urban boroughs spread at its foothills. "You're lucky that you have ski slopes half an hour from the city center. Next time I will come in the winter just to go skiing", says 50 -year-old Parisian Bernard du Chene.
Foreigners often say that Sofia is one of the greenest and most friendly cities they have seen. They like the parks and urban green spaces - something we, Sofianites, are used to and even complain that they are not enough. "Is there another European capital where you can walk the streets and pick straight from the trees plums, mulberries, wild apples and cherries?", Bernard wonders. The groups of tourists roaming the city center, armed with maps, GPS devices and cameras, camcorders, etc. have long become part of the urban landscape.
Twice daily the Free Sofia Tour, a free walking tour of Sofia, starts from the Courthouse downtown. For two hours, foreigners can see the most iconic landmarks. "They are very impressed by the coexistence of past and present on a patchwork of different cultural and historical layers," says Petya Miteva, a guide with Free Sofia tour organization.
"Usually people are very surprised", Petya Miteva went on to say. "Arriving here, they have no idea what to expect. But when we take them round and show them the sights, when we tell them something about Sofia, they remain amazed by its centuries-old history, which they know nothing about. They are impressed that we have Roman excavations in the city center and in the heart of this huge city there are gushing mineral springs dating back to Roman times."
"The city is full of surprises", says USA Today. Recently, the editors of the American edition placed Sofia first in the ranking for the cheapest European capital. This is another major trump card to attract tourists. Others are the modern, brand-new city hotels, offering excellent conditions. But low prices are not the only reason to visit Sofia. USA Today features a number of Sofia's landmarks, including the archaeological remains of antiquity in the city center uncovered during the construction of the subway, the Alexander Nevski cathedral built in 1912 which, according to the edition, can accommodate about ten thousand people, and "the amphitheater - almost as large as Rome." But not only. Nightlife, the variety of clubs and entertainment venues are a magnet for those seeking new experiences and acquaintances. It happens that foreigners can encounter a different culture. "In some places they play "a mix of Serbian and Turkish pop and rap music called chalga", the editors of USA Today write with astonishment.
In recent years, low-cost airlines launched comfortable and cheap flights from Sofia to Europe, which attract more tourists arriving for the weekend. The organizers of the Free Sofia Tour say that this summer the capital got one more attraction – the peaceful civil protests. Foreigners mostly enjoy them and shoot them. They were impressed by the smiling faces of people in the protest marches. And some of the guests who come from countries where similar protests are taking place even join a march in solidarity. "I like Sofia, there is bustling life, constantly something is happening," says a 40-year-old entrepreneur from the UK. Of the same opinion are also other foreigners to whom the city is a pleasant surprise with its art galleries, theaters, various festivals and outdoor events. So many people are back here at the foot of the Vitosha Mountain for another exciting weekend.