Sofia Airport (SOF)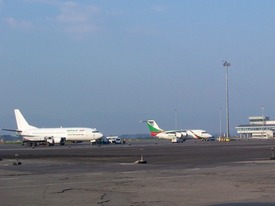 Address: 1 Christopher Columbus blvd., Sofia 1540, Bulgaria;
Airport Code: SOF
Contacts:
International flights - departures: + 3592 937 2211
International flights - arrivals: + 3592 937 2212
Domestic flights: + 3592 937 2213
V.I.P.: + 3592 937 2191
Lost& Found: + 3592 937 2491

Here are the numbers of the busses and the route taxies passing by the Sofia Airport:

Busses: 84, 284
Route Taxies: 30

• Sofia Airport Code: SOF
• Country Code: +359
• Telephone: +359 (0) 2 937 2212 (arrivals); +359 (0) 2 937 2211 (departures)
• Sofia time zone: GMT +2 hours (GMT +3 hours from last Sunday of March to the last Sunday of October)
• Airport location: Sofia airport is located 10km North-East of Sofia city center.

• Transfer between terminals: Sofia airport offers 2 terminals at the present moment - Terminal 1, and Terminal 2. The two terminals are within 15 minutes walking distance between each other.

• Driving directions: From Sofia Orlov Most (The Eagle Bridge) take Tsarigradsko Shose going east (To Burgas/Plovdiv). Pass Shell petrol station and Mc Donald's and just after the sign to Mladost District follow the sign to Sofia airport. Take Christopher Columbus Boulevard to the airport. Keep straight.

• Sofia airport parking: A large parking lot is available underground or opposite the international terminal buildings, and there are both short-term and long-term parking spaces available for 1EUR (2 Leva) per hour on Terminal 1, and 1.5EUR (3Leva) per hour on Terminal 2.

• Sofia airport car hire: RentACarBulgaria.com

• Hotels at Sofia airport - There are no hotels at Sofia airport. The city is not faraway from the airport (15 min) and you can find a good value for your money hotel in downtown Sofia: Browse the left menu to see all hotels in Sofia!
• Transfer service from/to Sofia airport: If you have an accommodation booked in Sofia, do not forget to ask for shuttle service or private transfer from/to the airport. We also have very competitive transfer rates from Sofia airport to Sofia and the nearby ski resorts: Transport and airport pick up service in Sofia and Bulgaria!

• Information and Help desks: There is an information desk at Sofia airport: +359 (0) 2 937 2211;

• Money and exchange: Banks and several ATMs are available at Sofia airport. Foreign exchange services are also available. Paid by credit card Wi-Fi Internet access is available in certain areas at the airport.

• Eating and drinking:- There is a restaurant, a pizzeria and a self-service area offering a variety of international dishes, sandwiches, salads, soft drinks, beer and wine, sandwiches and snacks.

• Shopping: - Duty-free shops are available at the airport. They are located beyond the security control of each terminal. They sell cigarettes, wines and spirits, perfumes, cosmetics, watches, sun glasses and much more.

• Luggage - Trolleys are available free of charge and a lost and found office which operates 24 hours.

• Conference and Business Facilities: - The Business Class Lounge at Sofia airport is located on the second floor of Terminal 2. Copying and fax services, Internet access and newspapers and magazines are available in the lounge. To get access, travelers need an invitation card issued by their airline at the check-in desk.

• Facilities for Disabled Travelers: - Terminal 1 has designated slopes for trolleys and wheelchairs leading to the bus station and the parking area. The new Terminal 2 at Sofia airport has more facilities for disabled passengers. There are toilets for wheelchair users, and access to the different terminal levels and the multistory parking garage via elevators.