Sofia aims to develop tourism and infrastructure
tmbulgaria.com, 15 December 2010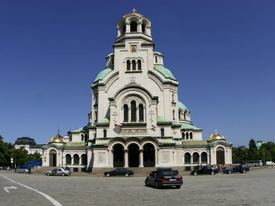 The mayor of Bulgarian capital Sofia Iordanka Fandakova has set two goals -to attract more tourists and to increase investments in the city, Financial Times reported.
The improvement of transport infrastructure with the expansion of the subway and completing the ring road of Sofia is one of the mayor's major aims. Another aim is sights of Rome, Byzantine and Ottoman times to be exposed.
The excavation and renovation of 16 500 square meters from the pedestrian zone in Sofia will include a new underground museum above a new subway station.
Sofia gives 40 percent of GDP, but it attracts a few tourists in comparison to the resorts on the Black Sea and ski resorts.
The main priorities of Fandakova are concentrated in the central part of Sofia, where during the construction of the subway were found remains of Serdica. Three architects have produced a plan for an underground museum and area for cafes, galleries and theater. The municipality hopes to receive EU funding of 10 million euro for this project.