Wizz Air to launch four new routes from Sofia
dnevnik daily, 24.09.2009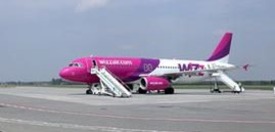 Hungarian no-frills airline Wizz Air will fly to four new destinations from Sofia airport, said executive vice-president John Stephenson.
As of May 22, 2010, the carrier will carry out three flights a week to Madrid, Paris, Frankfurt and Bologna, with one-way fares starting from BGN 33.99 with taxes, excluding luggage, insurance and bank transfer surcharges.
The first three destinations are services by flag carrier Bulgaria Air. Wizz Air will compete also with EasyJet, which flies to Madrid, Air France to Paris and Lufthansa to Frankfurt. No airline on the market operates the Bologna route at the moment, according to the timetable of Sofia Airport.
From May, Wizz Air will also add one more flight to its Eindhoven and Valencia destinations, carrying passengers three and four times a week, respectively. It is also pondering launching a flight to Bratislava, seeking to lure Vienna travelers following the collapse earlier this month of SkyEurope, which slipped into insolvency and filed for bankruptcy protection. Stephenson said the carrier could not afford to fly directly to Vienna due to the high fees but added the destination will be services by their peer Flyniki.
To meet surging demand, Wizz Air plans to add a new Airbus A320 to its operating base in Sofia. The company operates its Sofia routes by 26 airliners, which should grow to 132 by 2017. It has captured around 11% of the Bulgarian market, ranking second after Bulgaria Air and leaving behind Lufthansa, Austrian Airlines and EasyJet.
The Hungarian airline has carried around 650,000 passengers across all Sofia destinations, Stephenson said. Traffic is expected to swell to 750,000 in 2010.