Borissova Garden, Sofia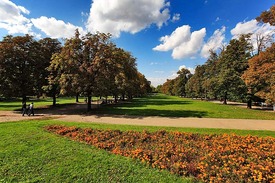 The central park of Sofia is Borissovata Gradina (The Garden of Boris), along the Tsarigradsko Chaussee Boulevard and beyond Orlov Most (the Eagles' Bridge).
At the very beginning of the park the Ariana Lake is located. Further in the park, the Vassil Levski National Stadium and Bulgarian Army Stadium, as well as courts and a cycle - racing track are found. About a kilometre from its entrance is the Maria Louisa Swimming Complex, which has two open - air pools and a 10 - metre jumping tower.
There are numerous alleys in the park, part of which are asphalted. Near the park entrance, there is an open - air stage, children playgrounds and places for recreation and training. A large monument, name Bratskata Mogila (the Mound to the Brothers)rises at the end of the park. The Borissova Gradina Park is the favourite recreation place for most of the citizens of Sofia.