Entertainment for Kids
SofiaLand
SofiaLand Attractions Park is the biggest entertainment park for kids in Bulgaria. The park disposes of plenty of whirligigs, kids' roller coasters, a castle, and amusement towers.
Sofia Land also offers places for relaxation to the parents, including nice restaurants, cafes, a piano bar, pizzerias and an ice-cream saloon.
Sofia Land Amusement Park is the first park of such kind not only in Bulgaria, but in Eastern Europe as well. It spreads on 35 decares in the centre of Sofia, in Borissovata Garden, very close to the favourite zoo too.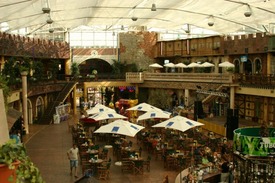 Some of the entertainments in the park include the Banana Tower, Villa Vilekula, The Ferry, the Flying Snails, the Music Express Train, the Caterpillar, Indy's Train, the mini golf course, as well as the high launch tower
The amusement facilities accept the kids, in accordance to their age and health condition. Sofia Land also features special rooms for children, where they can play, and celebrate events, like birthday parties and special occasions. There is an Artland kid's room for artistic occupation and studies, where children can learn how to draw, paint, connect mosaics, sing and play like real actors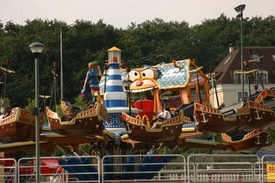 Interesting for its architecture style is Romeo and Juliet Restaurant, which represents Montague's family House in Verona and brings you back in ancient Italy's atmosphere.
The next stop is La Gelateria Ice Cream Saloon, serving more than 60 types of ice-cream, prepared by original Italian recipe. The capacity of the saloon is 108 seats.
Piano Bar Sofia land is also worth to be visited. It has a rich collection of over 75 sorts of wine from all over the world.

Sofia Land also has a coffee shop- "De Columbia" Café. It impresses with its nice attractive interior, which resemble the typical architecture of Amsterdam.
The amusement park works Monday through Friday from 11.00 Am till 7.00 PM, and from 10.00 AM till 8.00 PM during the weekends.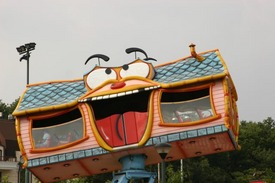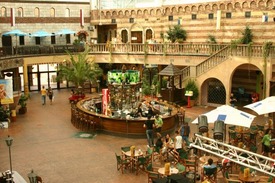 Patilantsi Amusement Kids Complex

The complex has a variety of entertainment facilities, including jumping star, whirligigs, a slide, boats, a submarine, Indian canoe, crushing cars, a Ghosts House and a jungle. There is plenty of entertainment, like shooting, horseback riding, theatre performing, drawing and colouring in the study- room.
Birthdays and special celebrations are organized.
Patilantsi Complex works every day, but Monday, from 10.00 Am till 9.30 PM

Kokolandia Adventure Park

Kokolandia Adventure Park is located in a forest area, in Borissovata Garden. It is located very close to Sofia Downtown, behind Park Hotel Moscow. The park offers great opportunities for adventurous games in nature for kids and a nice bar with cooling drinks for parents to relax. The parents, of course can also enjoy together with their children, if they have the adventure spirit.
The equipments of Kokolandia Adventure Park include Dangling Bridge, made of wooden sticks; rope parapets, dangle rope ladders, metal ropes, a climbing wall with three different levels of difficulty, also bungee, mini- golf with 9 holes and a nice castle for the smallest visitors of Kokolandia.
The complex is open from April. It starts working at 9.00 AM and closes at 9.00 PM.